16th-17th January 2024, Brussels Plaza & hybrid

SOFIE is the only industry meeting place for organic-carbon-based fertiliser producers, distributors, advisory, technology suppliers. The first SOFIE (2019) attracted 125 participants, with 230 for SOFIE2.
SOFIE3 is co-organised by ESPP, Eurofema and Fertilizers Europe, with support of the International Fertiliser Society and SILC Fertilizzanti.
SOFIE3 will cover:
policy and market
agronomic benefits, in particular field trials and case studies
processing from divers input materials to consistent products for farmers
application best practices, e.g. co-application with mineral fertilisers, biostimulants
environment, carbon benefits, LCA, Circular Economy
business models and product success stories
All presentations, showcases and posters to be in Brussels (not online).
Speakers already include European Commission (DG AGRI and DG GROW), Copa-Cogeca, S&P/Fertecon, ADAS, Nutriënten Management Instituut, NoBos (EFCI Register), Yara, Fertilizers Europe, EEB/ECOS, IPS Konzalting ...
Programme
Check the programme here.
Call for abstracts (closed 31st October): see details here.
Location
Hotel Le Plaza Brussels, Adolphe Maxlaan 118/126, 1000 Brussel
Prices and registration

Registration is available on Eventbrite.
Ticket Type
Standard
ESPP Members
Brussels
450€ (544.5€ inc. VAT)
350€ (423.5€ inc. VAT)*
Online
100€ (121€ inc. VAT)
50€ (60.5€ inc. VAT)
Poster (Including poster pitch and one entry)
750€ (907.5€ inc. VAT)
600€ (726€ inc. VAT)
Stand (including one entry)
1250€ (1512.5€ inc. VAT)
*valid also for speakers

With the support of

SOFIE3 will be followed by ESPP's meeting on Defining "Bio-Based Fertilisers" and FPR "solely biological origin"
18th January 2024 - Brussels and online
More information available here.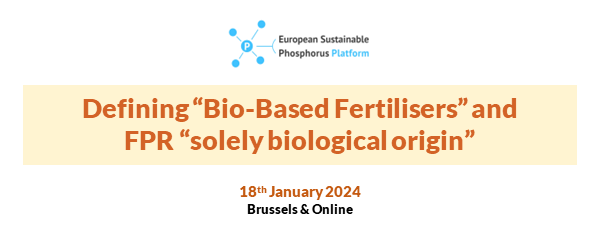 Previous editions


A full summary of the SOFIE2 Conference is available here (SCOPE Newsletter #146). If you are not already subscribed to ESPP eNews and SCOPE, subscribe here.
Slides, posters and participants list are available to all registrants on the Swapcard app.
The Swapcard chat is available for download here.