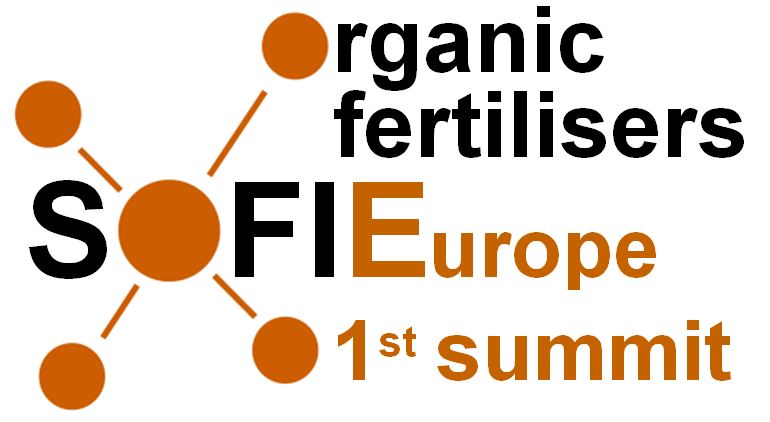 SOFIE: 1st Summit of the Organic Fertiliser Industry in Europe
Organised by ESPP in partnership with IFS (International Fertiliser Society)
Brussels, Belgium (within walking distance of Gare du Midi and Gare Centrale)
Wednesday 5th 14h00 – Thursday 6th June 16h30
SOFIE 2019 takes place back to the IFS Technical Conference 4th June lunch – 5th June lunch
Introduction
There is today considerable market potential for organic fertilisers, driven both by demand (recognition of the agronomic value of organic carbon, high-added value markets in specialist sectors such as greenhouses, horticulture …), both in Europe and for export (e.g. Middle East, Africa …). This is leading development of tailor-made and performance products adapted to farmers' needs.
Industry is also being driven by the Circular Economy, with potential for valorisation of organic materials, digestate or composts from renewable energy production, food wastes, agricultural and food industry by-products …
At the European-level, the organic fertiliser industry faces new challenges and opportunities. Important EU regulatory developments include the new EU Fertilising Products Regulation (for the first time the organic fertilisers sector will have an EU regulatory framework), REACH, End-of-Waste and Animal By-Products. European policies also open new opportunities: Circular Economy and Bio-Economy policies, EU R&D projects (H2020, BBI …). At the same time, new markets are resulting from the need to export regional manure nutrient surpluses, the entry of new global technology players (e.g. Hitachi Zosen in biochar) and from added-value markets for export outside Europe.
The organic fertilisers market is estimated at 2.1 billion €/year in Europe and is expected to grow at over 4%/year to 2023 (5.5 – 17 billion €/year for the global market, 12-13% growth to 2022 / 2026).The wide variation in estimates suggests an unclear definition of the industry sector and a lack of information available.
Registration
Please register via this link: www.eventbrite.co.uk/e/sofie-organic-fertilizers-summit-tickets-55703185728
The key target for this conference is industry, that is manufacturers, distributors and importers of organic fertilising products, although speakers will include leading agronomists and regulators. The registration fee structure is therefore fixed as follows (inclusive of VAT, includes networking light dinner cocktail after the conference 5th June and lunch 6th June)
Special industry rate = 185 €
Reserved for SMEs and farmers cooperatives producing or distributing organic fertilisers
Reduced price = 125€
Reserved for Members of ESPP or of IFS, paying registrants at IFS Technical Conference
Standard registration = 450 €
Stands (industry, research, other selected organisations which are partners of SOFIE …):
900 € inc. VAT (-50% for ESPP members)
Proposals for speakers or stands are welcome
Draft programme
Wednesday 5th June - 14h00 – 18h00
joint lunch with IFS Conference (additional on request)
How the organic fertiliser industry is seen from outside and inside
- what is an organic fertiliser and what is the organic fertiliser industry today: types of products and applications, compost, digestate, agri-food by-products, recycling …
- agronomist overview: what do organic fertilisers claim? Is there evidence to support?
- farm advisory organisation: how do farmers perceive organic products?
- waste/water company: moving from waste disposal to added-value fertiliser products
- mineral fertilisers industry: are organic fertilisers a future opportunity for the mineral fertilisers industry?
Break
Do the claims for organic fertilisers stand the test of science?
- soil organic matter: does it bring economic benefits to farmers?
- "4 per mille": is it a credible message? Do organic fertilisers really contribute?
- under what conditions are nutrients better available, better stored, less susceptible to losses in organic fertilisers than with mineral fertilisers?
- do organic fertilisers bring 'biostimulant' type advantages beyond just adding carbon?
Evening (18h00 – 20h30): networking dinner – walking cocktail at the conference venue
Thursday 6th June - 9h00 – 16h30
Added value and development perspectives for the organic fertiliser industry
- how organic fertilisers respond to farmers' needs today and in the future
- export potential: agronomic need for organic fertilisers in Africa, Middle East
- quality assurance: industry internal and regulatory quality systems
- distributor or farmers' cooperative: how to ensure that farmers understand organic products and use them optimally
- precision farming and organic fertilisers
- circular economy: new business opportunities
Break
Regulatory challenges for the organic fertiliser industry in Europe and export
- Overview: REACH, Circular Economy, Bio-Economy, End-of-Waste, Plant Protection and Invasive Species, Animal By-Products …
- EU Fertilisers Regulation: introduction to the Regulation architecture (DG GROW)
- key points for industry and outstanding questions
Lunch
Some specific aspects of the EU Fertilisers Regulation
- interaction with National regulations and implementation period
- standards needs and development
Panel discussion on regulatory opportunities and challenges and on actions to accompany industry adaptation and implementation
Closure