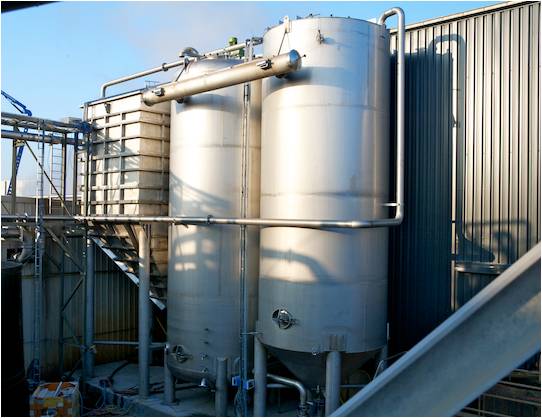 This solution aims at the precipitation P with FeCl3 by recovering P & N by controlled struvite formation. A 45m³/h pilot plant showed satisfying results during 24 months, after which Clarebout pototoes decided to build a 120m³/h plant at the Nieuwkerke site and 80m³/h plant at the Waasten site.
The NuReSys-P technology enables to produce struvite pellets (2-3mm diam) which can be separated from the sludge (effluent from UASB reactor). Struvite has a crystal structure that is pure and can be reused as a slow fertilizer. OVAM (the Flemish Waste Agency) considers struvite as a product and FAVV (Federal Agency for Food Safety) has declared that struvite can be used as fertilizer. Depending on the origin, the struvite needs additional clearance to be used as fertilizer in the food industry.
The 45m³/h pilot plant was operational plant since mid 2009 and showed satisfying results and promising ROI. The 80m³/h and 120m³/h plants are operational since November and December 2012.
Facts & Figures
m>Nieuwkerke:
Volume 120m³/h
PO4-P concentration in: 152ppm
PO4-P concentration out: 20ppm
Average struvite production: 1.850 kg/day

Waasten:
Volume 80m³/h
PO4-P concentration in: 115ppm
PO4-P concentration out: 20ppm
Average struvite production: 1.130 kg/day


Type of technology: Crystallisation reactor with MgCl2
Investment: €986.000



More information:
website: NuReSys
youtube: How it works