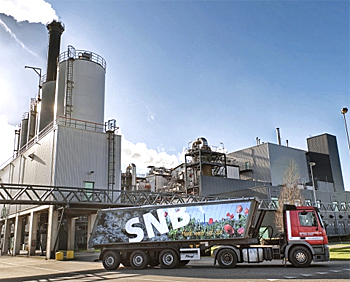 At ESPC2, SNB (Slibverwerking Noord-Brabant), HVC Groep and EcoPhos announced signature of a contract to use c. 60 000 tonnes/year of sewage sludge incineration ash from the Netherlands as a raw material for phosphorus recycling.
The ash will be treated at EcoPhos' new plant under construction in Dunkerque, France, producing DCP (Di Calcium Phosphate) using a wet chemical process, for use in fertilisers or animal feed.
SNB and HVC currently incinerate around one half of the Netherland's municipal sewage sludge (c. 1.5 million tonnes/year), Because the companies use "mono-incineration" (sewage sludge incinerated separately, not mixed with municipal solid waste or other waste), the ash contains high phosphorus levels (up to 7% P). The project will recycle over 4 000 tonnes/year of phosphorus.
Further information here.