EU EIP-AGRI workshop on agriculture and forestry circular economy case studies
[accordion] [item title="Read the full article"]
The European Commission funded EIP-AGRI (European Innovation Partnership on Agricultural Productivity and Sustainability) workshop in Naantali Spa, Finland, discussed the transition to a circular economy in agriculture and forestry with presentations of concrete experiences and projects.
Tarja Haaranen, Finland Environment Ministry opened the workshop and presented Finland Government's Goverment programme and the key project "Breakthrough of a Circular Economy". Finland has identified major circular economy opportunities in agriculture and forestry. Objectives include phosphorus stewardship (Critical Raw material), energy footprint of nitrogen fertilisers, synergy between water quality protection and nutrient recycling and the potential for new business opportunities. The Government has fixed the objective of processing 50% of manure and sewage sludges in eutrophication 'Sensitive Areas' by 2025.
The economic potential of pulp and paper industry by-products in Finland is estimated at up to 240 million €/year, of which sludges and ashes 10 – 20 million €. In agriculture, 20 million tonnes of animal manures are produced annually, containing over 170 000 tonnes of phosphorus (P). Local concentrations of livestock production result in the need to move manure nutrients, and so challenges of storage, transport and processing.
Finland already has a number of exemplary local agriculture circular economy actions:
Sybimar www.symbimar.fi: equipment supplier for bioenergy and food production solutions with closed circulation, of waste, waste heat, nutrients and CO2
Honkajoki Oy www.honkajokioy.fi: producing protein feed, rendered fat and fertilisers, with waste heat recovery to heat greenhouses and return of recycled nutrients to the food chain in the form of animal feed, rendered fat, fertiliser and energy.
Palopuro agri-ecology symbiosis http://blogs.helsinki.fi/palopuronsymbioosi/english/: Knehtilä Farm and Hyvinkää enterprise network, cooperative food production system based on energy and nutrient self-sufficiency.
The Finnish government is investing 300 million Euros in the bio-economy. 12.4 million Euros is specifically allocated to demonstration projects for nutrient recycling, agricultural symbiosis and biomass processing. This programme will be officially launched early 2016.
Rob Peters, European Commission, DG AGRI (Agriculture and Rural Development), explained how the circular economy concept fits into current EU policies, within the overarching objectives of the EU 2020 strategy for smart, sustainable and inclusive growth. The EU communication and action plan on the Circular Economy (so called 'Circular economy package') planned for adoption on the 2nd of December this year, is expected to include actions on food waste, biomass and bio-based products, including nutrient recycling and wastewater reuse, amongst other. In addition to targeted actions, horizontal measures will accompany the transition to the circular economy. These include for example support to research and innovation through Horizon 2020 and, scaling-up technologies and processes thanks to EU funding programmes (e.g. LIFE+, EU structural funds including rural development).
The revision of the EU Fertilisers Directive, to take in recycled nutrient products, is now confirmed and the "Roadmap" for this revision is published http://ec.europa.eu/smart-regulation/roadmaps/docs/2012_grow_001_fertilisers_en.pdf
Fabio Cossu, European Commission DG AGRI, presented the tools in place to support innovation in agriculture, through the EIP-AGRI. EIP 'Operational Groups', for examples supported through rural development programmes will bringing together the relevant circular economy actors (farmers, foresters, advisors, bio-based businesses, etc.) to test innovative solutions on the field addressing concrete issues and opportunities.. Also, 'Focus Groups' at the European level, bring together experts to define the state-of-the-art of research and practices to identify further research needs and gaps and prioritise innovative actions. Focus Groups currently underway relevant to the circular economy include among others: fertilisers' efficiency, water in agriculture, mixed farming systems.
Mr Cossu confirmed that a new Focus Group will be launched in 2016 on the agronomic value of recycled nutrients. The scope and content of this Focus Group is currently under definition by the EU Rural Networks' Assembly (RN Assembly) Subgroup on Innovation, then a call for experts to constitute the group will be published by the EIP-AGRI.
SCOPE editor's note: EIP-AGRI Focus Groups are brought together and secretariat ensured by the EIP-AGRI Service Point. The Focus Groups are tasked with assessing currently available knowledge and research needs and provide new and useful ideas to solve practical problems, provide ideas for EIP Operational Groups or research projects. They can eventually generate input for future Horizon 2020 research priorities, and do not imply funding for participants. ESPP, with support of nearly 60 different organisations, submitted the suggestion for establishing a Focus Group on "Agronomic use of recycled nutrients" replying to the EIP-AGRI call for proposals for ideas for Focus Groups in June 2015.
Ben Allen, IEEP (Institute for European Environment Policy www.ieep.eu ) explained the principles of the circular economy and its relationship to other related concepts, such as the bio-economy. He went on to describe how agriculture and forestry are at the heart of the bio-economy and that by integrating circular economy principles into these sectors they can be made more sustainable and profitable in the long-term. Through improved circularity, Europe can reduce pressure on land use, soil and water, reduce EU vulnerability to external commodity price risks, stimulate innovation and generate new income streams for farmers.
Circular economy in action
Dr Allen presented a number of exemplary cases of circular economy in action within the agriculture and forestry sectors. These included developments in paper recycling in Europe presented in a recent CEPI publication (www.cepi.org), where already around 70% paper fibre recycling has been achieved, remarkably high given that the feasible maximum is probably < 80% (some paper uses are non-recyclable, such as used hygienic tissues or newspaper used to light home chimneys …). These developments include the production of paper fibres from agri-food industry waste streams such as lemon skins, nut shells, olive stones (Favini, Italy www.favini.com); and closed loop take-back recycling of hygienic tissues (Van Houtuum www.vanhoutum.nl) amongst others.
Other examples of circular economy activities in the agricultural and forestry sector included: the production of organic compost from olive cake in Spain and Italy and waste wool to fertiliser in Italy, amongst other examples that were the focus of more detailed presentations throughout the remainder of the workshop.
Johan Vlaemynck, Tomato Masters, The Netherlands, presented this family farm development today producing 9 000 tonnes of no-soil greenhouse tomatoes per year with integrated circular nutrient and water cycling with Aqua4C fish production. Jade trout (an Australian species) are produced, with market value because of omega lipid content. The fish are fed with microalgae, currently 250 tonnes of fish per year (extension to 30 000 t underway) and the used aquaculture water is after microfiltration in the tomato greenhouses, recycling both the water 30 t nitrogen, 15 t potassium and 5 t phosphorus per year (one quarter of the nutrients needed for the tomato farm, worth 22 000 €/year). Cogeneration (natural gas) is used to heat the greenhouses and produce electricity needed for the aquaculture, with 80% of the CO2 used in the greenhouses. The tomatoes are sold via auction to international supermarket chains. A key challenge is levels of sodium in the used aquaculture water.
Research projects
Michael Kornaros, University of Patras, Greece, presented a research pilot biogas project (INTEGRASTE). The intention is to use agri-food manufacturing by-products (olive mill wastes, cheese whey, pig manure …) to produce biogas to be burnt in cogeneration engines producing electricity and heat (used for the thermal needs of the biogas plant itself and other uses). The project is looking at solid-liquid separation of the digestate, with the solid part going to composting and the liquid either to aerobic treatment or ultrafiltration, nanofiltration and reverse osmosis. The proposal is to use the treated digestate liquid to fertilise sweet sorghum cultivation on marginal land, to grow biomass for feeding the biogas digester when agro-waste streams are in shortage.
Site visit: BioVakka
Teija Paavola, Biovakka Suomi Ltd www.biovakka.fi (a BSAG Baltic Sea commitment company http://www.bsag.fi/Pages/Commitment.aspx) presented this cooperative of 21 farmers, which today owns and operates two biogas plants: Vehmaa, commissioned 2005, treating 90 000 tonnes/year (3/4 enzyme and food industry waste, 1/4 pig manures) and Turku, commissioned 2009, treating 75 000 tonnes/year of sewage sludge. The Turku sewage sludge digestate is used partly on agricultural land, partly in landscaping.
The workshop visited the BioVakka Vehmaa biogas plant. Here the input material is pasteurised at 70°C for one hour before digestion (to ensure sanitation). The biogas is burnt in cogeneration, producing electricity used onsite and partly fed to the grid (6 700 MWh/year), with heat being used both onsite and to heat greenhouses. The digestate is solid/liquid separated in centrifuges. The solid fraction is mainly used locally on farmland. The liquid fraction is concentrated (vacuum evapo-concentration). The concentrate (rich in nutrients) is sold to the paper industry, who need nutrients to 'feed' their wastewater treatment plants (paper wastewater has high carbon and low nutrients). The condensate from the evaporator (which contains trace nutrients but near zero carbon and solids) is purified by reverse
osmosis before discharge.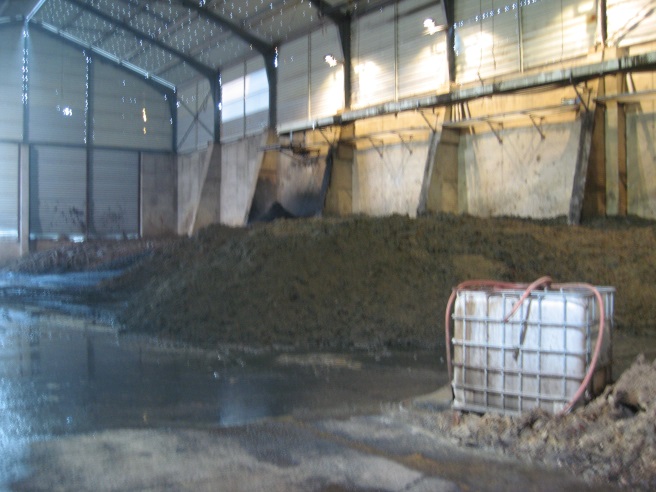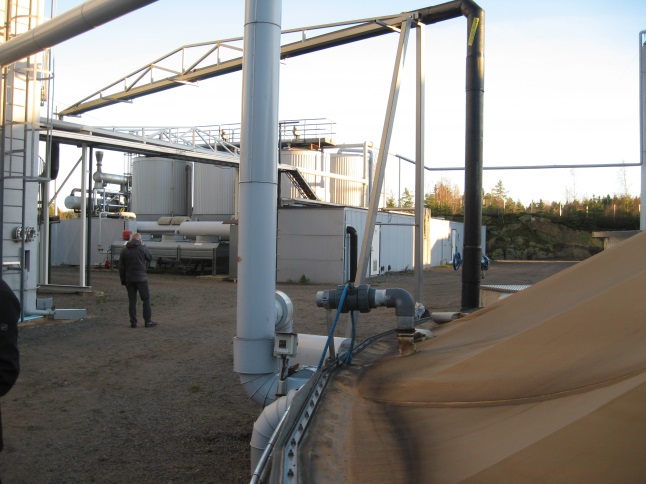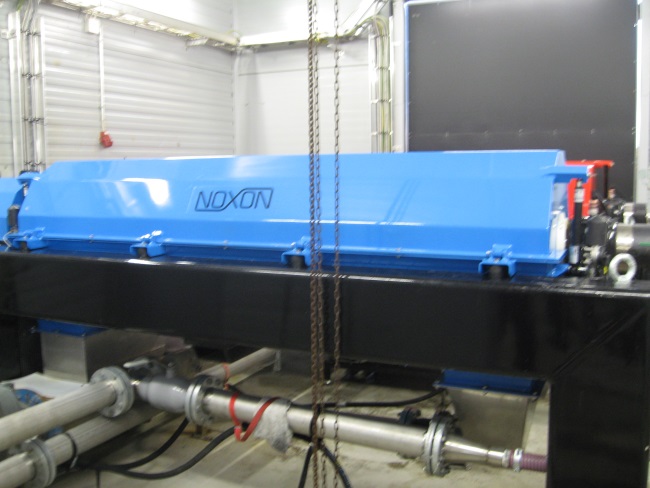 Nouchka De Craene, Millibeter, presented pilot R&D in Belgium to use the larvae (maggots) of the black soldier fly (Hermetia illucens) to break down different bio-wastes, and then harvest the larvae for use in e.g. aquaculture (fish feed) or in pet foods. This fly species does not eat when adult (cannot bite nor spread disease) and poses no threat to Belgian biodiversity in case of escape. Millibeter is also looking to further innovate by researching possible extraction of lipids, proteins and chitin from the larvae for higher value agro-food or chemical applications. There are regulatory obstacles to full-scale development because the flies/larvae are legally classified as 'farm animals', posing issues with waste and animal by-products regulations.
SCOPE editor's note: black soldier fly farms are already in full scale operation in e.g. Canada (Enterra, 36 000 tonnes/year www.enterrafeed.com South Africa (Agriprotein, 40 000 tonnes/year www.agriprotein.com). Agriprotein have announced their intention to build a factory in the EU as soon as regulatory obstacles are resolved (20/2/2015 http://www.feednavigator.com/Regulation/Insect-feed-maker-AgriProtein-says-logic-will-win-out-in-the-EU).
Keijo Siitonen presented the AgroHubs project, Lapland, with the village of Kierinki and other villages, which aims to achieve full local energy balance, using natural resources for biogas and cogeneration, with local production ownership.
Forestry circular economy and wood ash
Felix Montecuccoli, Austrian Land and Forest Owners, indicated that Austria produces some 250 000 tonnes/year of wood and straw ash, around half of which currently goes to landfill and the rest to the cement industry, in both cases at a significant cost to the ash producers. He presented tests carried out into valorisation of wood-energy ash as a fertiliser and for forest road construction (binder / foundation material, replacing the use of limestone). The ash shows to be an effective fertiliser and liming agent in short-rotation coppice (production of willow as wood fuel), however there are issues regarding levels of heavy metals. Also, wood ash is classified 'waste' in Austria, so cannot legally be used as fertiliser. SCOPE editor's note: this should be resolved through the currently underway revision of the EU Fertilisers Regulation, for which ESPP has proposed draft criteria for use of biomass ashes as fertilisers (www.phosphorusplatform.eu under Platform -> Activities -> Regulatory).
Challenges for valorisation of wood ashes include regulatory issues (legalisation of use as a fertiliser in Austria, REACH registration), acceptance in SFC (Sustainable Forestry Certification), heavy metal content, logistics, environmental impacts of leachates during storage, and lobbying from current operators to keep biomass ash classified as 'waste'.
Niklas von Weymarn, Metsä Fibre, presented the circular economy in action at the company's new bio-product mill, being built in Äänekoski, central Finland. The current mill produces 0.5 million tonnes/year of pulp fibres for graphic papers, boards, tissue paper and speciality fibre products. An investment of 1.2 billion € is underway to nearly triple production. As well as producing pulp fibres, the plant will be fully energy self-sufficient and will produce a variety of co-products, as well as bioenergy in various forms. In addition to the typical paper mill co-products tall oil and turpentine, the new mill will also include bark gasification to produce a gaseous biofuel and most likely also sulphuric acid and methanol. Additional co-products will follow.
Christer Segersteen, Södra, Sweden, indicated that Sweden is currently considering fixing an obligation to return ash to forest soil if branches are removed, in order to maintain fertility. However heavy metals are a challenge, in particular cadmium. This can be addressed by separating different materials in combustion, as barks have higher heavy metal levels. Markuu Granander, Finland Forestry Centre, indicated that wood ash is authorised and used as a forest fertiliser in Finland under specified conditions.
Simulation exercises
Interactive discussion of case studies presented at the workshop enabled participants to identify circular economy challenges and opportunities. Conclusions were presented by Ludwig Hermann, Outotec, Hanna Marliere, Polish Chamber of Waste Management (PIGO) and Emma Berglund, Confederation of European Forest Owners (CEPF). Factors identified included:
- Key factor for uptake of recycled nutrients is price
- No one solution: bio-circular economy solutions need to be adapted to local and regional contexts
- Local leadership and sense of purpose are important, as are business partnerships and value chain contracts
- Large potential for water reuse, nutrient recycling, bio-based renewable energies
- Short-chain agricultural product markets can bring more added-value to farmers, rather than auction and supermarket intermediaries
- Need for change shift in tax burden from labour to resources, need for economic research to support this, taking into account the specific issues of farmers' incomes and rural employment
- Market prices of mineral fertilisers are not a driver for economically viable bio-nutrient recycling: policy tools are essential to ensure that recycled nutrients bring revenue to farmers and forestry
- Importance of stable public policies: long-term visibility for investors, farmers
- Quality standards for recycled products such as digestate are the basis of a real market
- Public procurement policies can be a leading incentive
- Need for financial support for investments
- Rural Development Funds should better integrate bio-based circular economy actions
A panel debate was led by Cátia Rosas, CONFAGRI Portugal (National Confederation of Farming Cooperatives and Agricultural Cooperative Bank), Hilkka Vihinen, Natural Resources Institute Finland LUKE, Federico Grati, Biochemtex Italy, Christer Segersteen, Södra (Sweden forest owners' association), Geneviève Savigny, Via Campesina (international small farmers movement), Rob Peters and Ben Allen. The panel noted that both agriculture and forestry are traditionally and still today highly 'circular' in operation, with important levels of reuse of energy, nutrients, carbon and materials. With agriculture innovations and food safety legislation, however, have come new challenges to address, so that promoting a strong network with research and equipment providers is a key to increase circularity. A rethink of agricultural and agro-industry value chains is needed, to make by-products into resources, not simply "treating wastes". Changes to the economic system are needed to support farmers in redesigning ecological and local circular economy and bio-economy solutions.
Considerable opportunities exist in developing new recycled nutrient products in regions with nutrient excesses and in producing higher value recovered products from agriculture or forestry by-products, beyond energy uses, for e.g. chemicals, fibres, feed and food industry inputs.
Discussion with the workshop participants underlined the importance of networking, stimulating innovation, exchanging good practices and knowledge exchange: EIP-AGRI will continue to contribute to this, including with the new Focus Group on "Recycled Nutrients".
Interestingly, participants at the workshop put forward the idea of setting up of a Horizon 2020 Thematic Network on bio-based circular economy.
EIP-AGRI workshop 'Opportunities for Agriculture and Forestry in the Circular Economy', 28-29 October 2015, Naantali Spa, Finland. Workshop slides are available at https://ec.europa.eu/eip/agriculture/en/content/eip-agri-workshop-opportunities-agriculture-and-forestry-circular-economy
[/item][/accordion]