Leibniz ScienceCampus Rostock
Phosphorus research
Because of the central importance of P in a variety of production and environmental systems, an interdisciplinary research approach is necessary. Therefore, five Leibniz Institutes and the University of Rostock have created a network to intensify collaboration and research around this essential element and its sustainable management.
The Leibniz ScienceCampus Rostock 'Phosphorus Research' conducts strategic research and encourages interdisciplinarity in its topics, projects and methods.
The overall objective of the interdisciplinary collaboration in the ScienceCampus 'Phosphorus Research' is to find options for a more sustainable phosphorus use. In addition, a focus is on the P-cycles and fluxes in the environment and the environmental problems, especially in aquatic systems, caused by inefficient P-use or non-existent P-recycling. Expertise exists in various aspects of the element phosphorus as well as its diverse chemical compounds and specific modes of action in agricultural and environmental systems as well as in technical and industrial processes. In addition to basic and applied research, combined development and transfer of technologies contributes to economic development.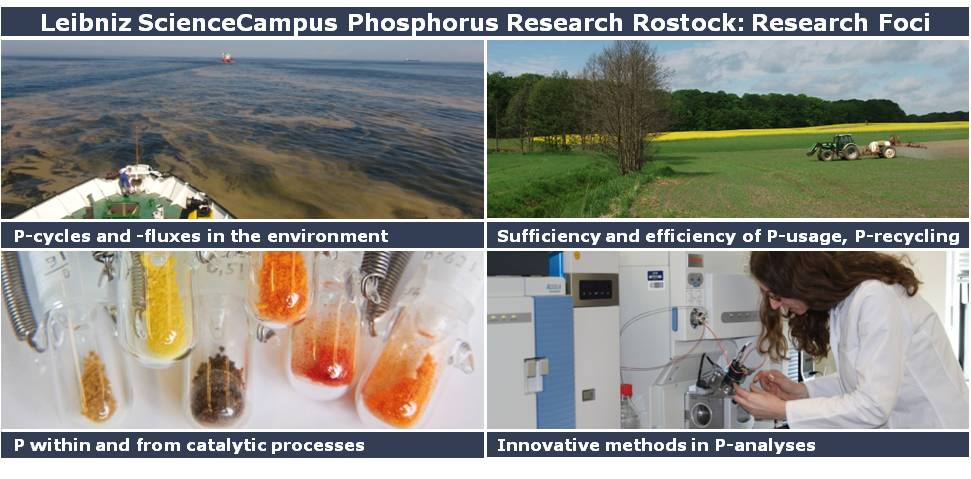 Research foci are 'P-cycles and fluxes in the environment', 'Sufficiency and efficiency of P use, P-recycling' and 'P as an element in and out of catalytic processes'. Additionally, the development of advanced analytical methods in P-research has been defined as cross-sectional task for serving and stimulating the above research clusters. Several thematically assigned projects covered by various disciplines are ongoing and new projects are emerging continuously. About 40 research groups with more than 70 scientists with relevant expertise are active in the ScienceCampus.
Cooperation partners
Leibniz Institute for Baltic Sea Research Warnemuende (IOW)
Leibniz Institute for Catalysis (LIKAT), Rostock
Leibniz-Institute for Farm Animal Biology (FBN), Dummerstorf
Leibniz Institute for Plasma Science and Technology (INP), Greifswald
Leibniz Institute of Plant Genetics and Crop Plant Research (IPK North), Groß Lüsewitz
University of Rostock (4 faculties)
Contact
Leibniz ScienceCampus Rostock: Phosphorus Research
c/o Leibniz Institute for Baltic Sea Research Warnemuende
Seestr. 15
D-18119 Rostock
Germany
E:
www.sciencecampus-rostock.de