Process & contact
Member of ESPP
See SCOPE Newsletter n°119
Técnicas Reunidas Contact:
ZAR Foundation
Contact:
Input materials
Input: sewage sludge incineration ash, from sewage works using biological and/or chemical P-removal
Output products
Technical grade phosphoric acid.
Silica filter cake to cement/concrete industries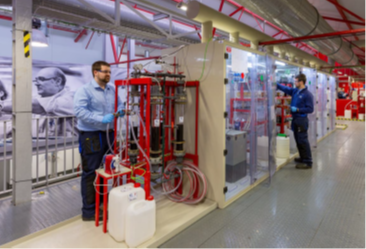 Heavy metal concentrate.
Fe-III-chloride solution as a coagulant for wastewater treatment
Process description
1) Leaching of ash in sulphuric acid to dissolve phosphorus, solid/liquid separation by filtration.
2) Separation of iron, aluminium and heavy metals by solvent extraction
3) Concentration of dilute acid to technical grade phosphoric acid by evaporation
Operating status
Pilot tests carried out at Tecnicas Reunidas in Madrid, Spain.
Full scale (30,000 t/y ash) implementation planned in Solothurn, Switzerland