Process & contact
http://www.metawater.co.jp/eng/product/plant/sewer/rin_collection/
Input materials
Sewage sludge incineration ash, from sewage works using chemical or biological P-removal
Output products
Calcium phosphate (hydroxyapatite) for use as fertiliser or in fertiliser production.
Registered as a fertiliser in Japan (2009) and demonstrated in plant tests.
Process description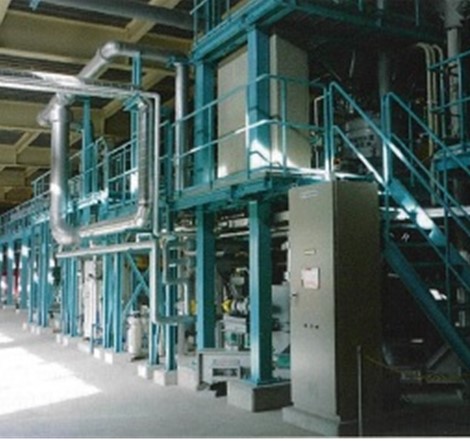 1) Dilute sodium hydroxide is used to leach sewage sludge incineration ash (90 minutes, 50-70°C)
2) After filtration, calcium phosphate is precipitated from the leachate, then separated (sedimentation) then dried.
3) Leaching of P in the ash is limited to around 30% in order to minimise leaching of heavy metals.
4) The remaining ash is treated with poly-ferric sulphate solution to immobilise remaining metals. This residual ash now has a slightly higher mass than initially (30% humidity) and is used as a construction material or soil amendment.
Recovery rate (P in final product / P in input ash) and metals split/balance: under study.
Operating status
Two full-scale plants operating in Japan: Gifu, since 2010, 5 t/day ash (taking ash from two mono-incinerators treating sewage sludge from four wwtps, total 380 000 inhabitants), and Tottori, since 2014, 2t/day ash (taking ash from one mono-incinerator treating sludge from total 90 000 inhabitants).
Photo: Gifu plant, from "Phosphorus Recovery and Recycling", ed. Otake & Tsuneda, Springer; 2019