TERRA Humana
Clean Technology Development, Engineering and Manufacturing Ltd.
3R zero emission pyrolysis industrial technology for economical production of ABC Animal Bone bioChar organic Phosphorous fertilizer safe product to reduce mineral fertilizers and chemical use in competitive agriculture.
TERRA is established in 1989 as Swedish-Hungarian joint-venture between Lang Machine Works (since 1968, Alstrom subsidy) and Edward Someus for environmental technology developments, industrial engineering and manufacturing of pyrolysis technologies for reductive thermal processing and recycling of organic waste/by-product streams. Edward Someus is core technology provider (3R "Recycle-Reduce-Reuse" Zero-Emission-Pyrolysis) and senior engineer for TERRA specific solutions. The company has been independent SME organization since 2001. The core competence for the three major – carbon related – work-fields from applied science into full scale industrial engineering:
Carbon Recycling and Refining, reductive thermal processing by zero emission carbonization for recycling of carbon for wide range of natural and carbon negative product applications, most importantly biochar.

Carbon Bio-formulation, biotech formulation of biochar/carbon for efficient bio and plant availability of nutrient uptake process support.

Carbon Bio-energy, chemical processing and added value upgrade pyrolysis oil.
TERRA is specializing in the indirectly heated rotary kiln technique and auxiliary installations, such as off gas treatment and biofuel refinery, and soil biotechnology. The invented 3R zero emission carbon refinery pyrolysis technology is an original and comprehensive solution. TERRA is coordinator and Science & Technology key solution designer for several large scale EU Commission contracted applied science and industrial engineering combined RTD projects since 2001, including but not limited to the following major references:
FP5-NNE5/363/2001-Multi fuel Clean Coal processing, construction of the third generation 3R industrial field demonstration plant (2002-2005);

FP6-PROTECTOR-514082 Phosphorous recycling (2005-2009);

FP7-211457-EUPHOROS spent rockwool and nutrient recycling from horticultural industry (2009-2012);

CIP-Eco-innovation-ECO/08/238984/SI2.532247 Phosphorous recycling (2009-2012);

FP7-289785-REFERTIL, reducing mineral fertilizers and chemicals use in agriculture by recycling treated organic waste as compost and biochar products, especially recycling of Phosphorous and Nitrogen. EU policy support for Fertilizer Regulation revision in the fields of compost, biochar and Phosphorus cases (2011-2015).
TERRA is specialized for carbonization processing of food grade animal bone for recycling of high P concentrated "ABC" Animal Bone bioChar for organic Phosphorus fertilizer, growing media, soil improver and adsorbent applications in the horticultural and environmental industries. The TERRA biochar is plant and/or animal biomass by-product origin carboniferous material aiming carbon negative multi functional soil enhancement for eco-safe applications to grow plants. Two types of biochar available, such as PBC Plant based BioChar and ABC. ABC processing requires by far higher efficient thermal processing, complex and higher level of technology, than PBC.

As of today TERRA is the only one biochar vendor in the EU with official and accredited Authority permit to use qualified and eco-safe biochar in open ecological soil environment (02.5/67/7/2009). During the past decades the company put in huge human and financial efforts to develop innovative eco-industrial advanced solutions, implement and tests "product like" field demo plant to meet SME specific market demands in the fields of carbon refinery and Phosphorus recycling for the EU, Australia and Japan markets. The SME company is having advanced and well equipped research, laboratory and field test facilities in W-Hungary with high qualified work force.

The third generation 3R industrial field demonstration plant has been built in 2004, successfully tested in ten years, and reached TRL8 technology-readiness-level system complete and qualified in 2014. Past years full industrial engineering developed for TRL9 for 2016 set up of an economical scale 20,000 t/y animal bone based 3R industrial production plant for high-P concentrated (30% P2O5) organic fertilizer ABC product market competitive manufacturing. This full industrialization project is implementation of the REFERTIL project S&T-RTD results.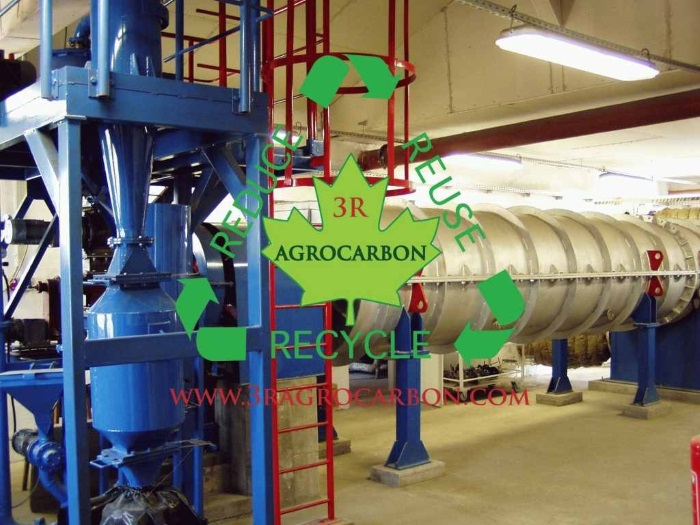 3R Pyrolysis plant for ABC Animal Bone bioChar organic Phosphorus recovery
See also
Refertil: investigating biochar technologies in agriculture
Recycling Animal Bone bioChar into fertilizer
www.euronews.com/2014/04/21/richer-soil-from-old-bones
www.euronews.com/2014/04/21/do-you-know-do-plants-eat-skeletons
Contact
Edward Someus (biochar S&T senior engineer)
TERRA Humana Clean Technology Development, Engineering and Manufacturing Ltd.
2472 Kajaszo
BIOFARM Pf.1.
Hungary
E:
T: 0036-20-2017557
Skype: edwardsomeus

www.refertil.info
www.3ragrocarbon.com